Heather Trapheagen, OD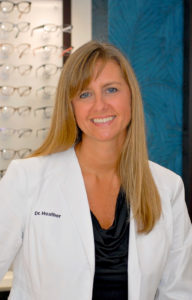 Dr. Heather was born in Valparaiso, Indiana, and moved to Cape Coral with her family in 1991. She graduated from Cape Coral High School in 1994. She attended the University of South Florida in Tampa, and through dual enrollment, graduated with high honors from Nova Southeastern School of Optometry in Fort Lauderdale in 2001.
Upon graduation, Dr. Heather returned to Cape Coral where she practiced with two different ophthalmology practices in Lee County until opening Full Spectrum Family Vision Care in July 2008.
Dr. Heather is an avid reader, enjoys listening to live music and spending time with her two sons, Jacob and Aidan and two dogs. She is an active member in Florida Optometric Association, is a past President of Southwest Florida Optometric Association, and currently is an administrator for Vision Source.